Football Manager stories: Can Matthijs de Ligt transform Liverpool into domestic titans?
Welcome to this first addition of Football Manager stories, in which we look five years into the future with Matthijs de Ligt at Liverpool.
Now, in the real world this would be an amazing deal for the Reds to get over the line. In my virtual one, it was easy. Using the in-game editor, I moved de Ligt to Anfield for £10 million, promptly resigned as manager and re-appointed Jurgen Klopp.
This let me watch the progress of the club and starlet without having to meddle in its affairs. I did this because I thought it would give an as-close-to-real-life simulation as possible.
And because I couldn't control anything, this would also allow de Ligt to be developed in the most natural way possible.
So without too much blabbering on, scroll down and click through the slides below to see how player and club did with five years in each other's company!
Season one
The main shock here was that Liverpool signed Shkodran Mustafi from Arsenal, essentially giving Jurgen Klopp six central defenders to chose from. The squad now contained Virgil van Dijk, Joel Matip, Dejan Lovren, de Ligt, Mustafi and Joe Gomez – who all had to fight it out for game time.
Also, Simon Mignolet remained first choice goalkeeper ahead of Alisson – but whatever, it kinda worked as the Reds finished the season in second place and actually had a stormer in the cup competitions as they won the Champions League!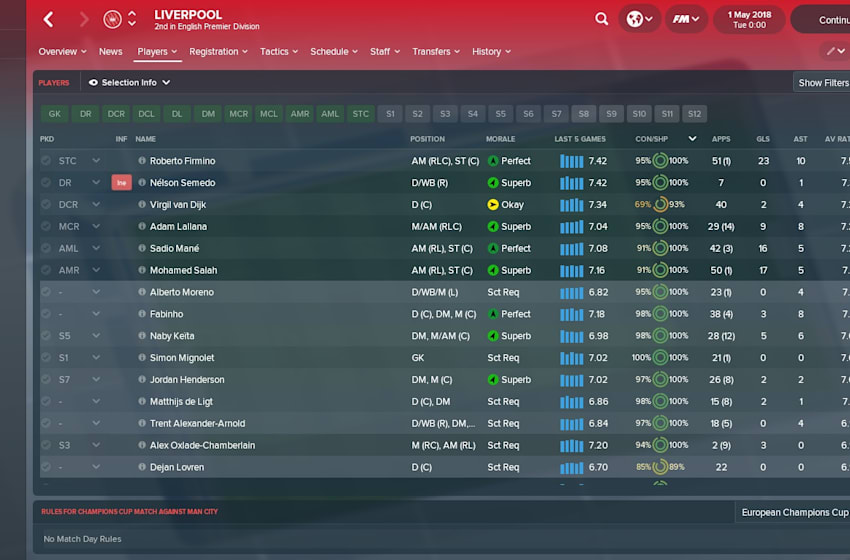 Liverpool played out an all English final as they beat Tottenham Hotspur 2-1 thanks to Sadio Mane scoring in the sixth minute and a Danny Rose own goal. Mustafi started the game at right-back, Lovren at centre back and de Ligt made the bench but wasn't required. And if you can work out how that formation ends up in a massive final victory, you're a better person than me.
De Ligt managed to get a few games under his belt in his debut Merseyside campaign – but a few of the other transfers looked a bit weird and left the squad unbalanced, but that hardly mattered as Klopp lifted the ultimate prize!