Patson Daka supports Liverpool: 'It was my dream to score twice'
Patson Daka supports Liverpool.
When RB Salzburg played the Reds in a preseason friendly, the Zambian striker knew he was doing something special.
Just to be on the field against the side his father loved, and the team he grew up supporting, was a special moment. But then he scored twice.
In an interview with First Time Finish, Daka's former coach Lee Kawanu revealed that the Salzburg star is a massive Liverpool fan and it was like a 'dream' when he managed to hit the back of the net twice against Jurgen Klopp's team.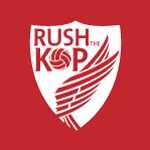 He said: "I talked to him after the game and I told him I wanted a hat-trick. He told me it was like a 'dream' to him.

"That's the team his dad supported and he supports deep inside and you score two, not just normal goals, but really good goals against the best defender in the world in Virgil van Dijk, it's a really nice story."
Over the course of the article, Kawanu describes how Patson Daka journeyed through the Zambian professional game before being signed by Salzburg.
It's full of heartbreak, hard work and an unshakable passion for the game. His is a story that's bound to include more success in the future; that tends to happen after scoring 24 goals a season.
Liverpool have been linked with the player, and they must have been keeping a keen eye on how Daka went about his business during that preseason game. He was also one of their key dangermen during the Champions League campaign.
Knowing that this is the club be supported as a child and that it was the club of his father is a massive boost if any transfer negotiations emerge. Daka will already be motivated to play for Liverpool, while the good relationship the two clubs seem to have will be a plus as well.
Coping with pressure is a big part of playing for elite sides like the Reds, but the striker has had to do it since the day he made his breakthrough. Zambia might not feature on a list of countries you immediately associate with football, but they're passionate and want to see their own do well.
When you're a wonderkid like Daka was, pressure comes with the territory.
He'll probably continue his journey with Salzburg for now, but if he has another great season, the Austrian side aren't going to be able to keep the wolves from the door.